Natalia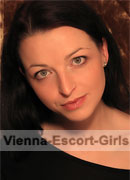 about me
Age:
24
Height:
169 cm / 5' ; 6' ;' ;
Weight:
61 kg / 134 lbs
Bust:
90 cm / 35"
Waist:
80 cm / 31"
Hips:
93 cm / 37"
Hair:
black
Eyes:
green
Smoker:
no
Languages:
german
escort girl description
My natural smile and peaceful personality will surely charm you. When you get to know me better, you will find that I have a frank character and a mind with open attitude to life. I appreciate people open to me as well because sincerity is the most valuable thing you can get these days. I always say what I think. Of course, I can control myself and there are some situations when it´s better not to say the truth. I think every little proplem can be solved by a communication and a compromise. I´m open to any kind of adventure. Adventure means each new experience I will remember and never forget. I´m already excited about new people I will meet, places I will travel to and interesting things I will learn. Chinese cuisine, fish or vegetable salads I like the most and my favourite drinks are white wine and strawberry juice. In my leisure time I´m keen on reading books, going to the theatre, internet and fashion. I keep my body fit with skating and riding a bike. One of the most important ways to create energy is by sleep and I love a pure and unbroken sleep. Culture is the most important thing I´m interested in when travelling abroad. From the variety of historical places of interests I´m keen on visiting museums and galleries the most. My desire is to visit Mexico and China.
prices
3 Hours
400 EUR
6 Hours
500 EUR
12 Hours
750 EUR
1 Day
950 EUR
2 Days
1250 EUR
3 Days
1550 EUR
4 Days
1900 EUR
5 Days
2200 EUR
6 Days
2500 EUR
7 Days
2800 EUR
*3 and 6 hours are availabe only for Vienna, Budapest and Prague